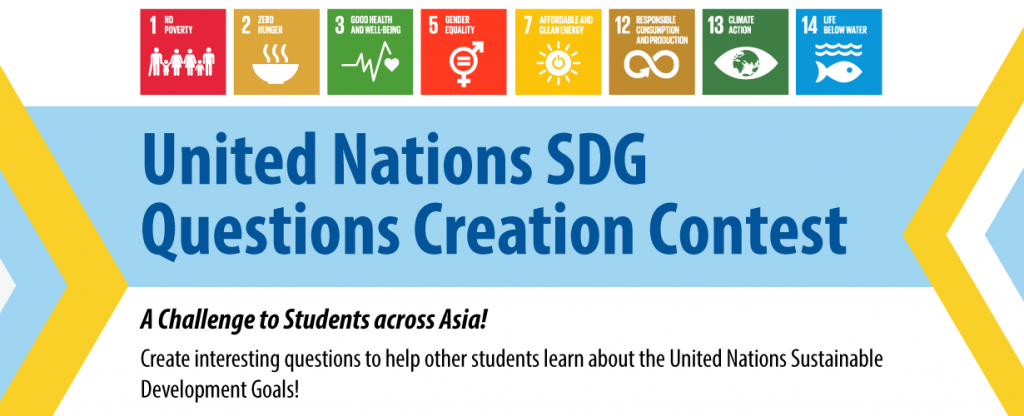 Question submissions have been closed. We thank all the entrants for their submissions.
Please see the latest version of this page for the results.
The Entrant
Must be a registered current student studying at a tertiary institution
Can enter this contest individually or as a team
Can submit up to 10 questions about the United Nations Sustainable Development Goals (SDGs)
Important:  By entering this contest, entrants are indicating agreement to be bound by its Terms and Conditions:
[sg_popup id="300″ event="click"][/sg_popup]
---
The Questions
Must be in English
Must be multiple-choice questions with 3 to 4 choices, with only one correct answer out of the choices
Must be related to the following SDGs (Maximum coverage: 3 SDGs in your submission):


(Click each of above icons for more details on the SDGs, as provided by the United Nations)

Will be judged by a panel of experts based on the relevance and accuracy to your chosen SDGs as well as the language
Note: Each question must have an explanation for the correct answer
The selected questions will be used in an e-tournament on a gamified learning platform, open to all university students across Asia
---
 The Prizes
Champion
HK$5,000 cash*
1st Runner-Up
HK$3,000 cash*
2nd Runner-Up
HK$1,000 cash*
Results will be released in January 2019 (updated January 2019)
* Winners who do not reside in Hong Kong will receive the prizes in their home currencies, via wire transfer (or similar) to the bank accounts as provided by the winners. Due to exchange rates and bank fees, the amounts in their home currencies may be less than the above amounts.
---
Enquiries
Write to Centre for Holistic Teaching and Learning, Hong Kong Baptist University at chtl@hkbu.edu.hk